EDiR Next Generation Radiology package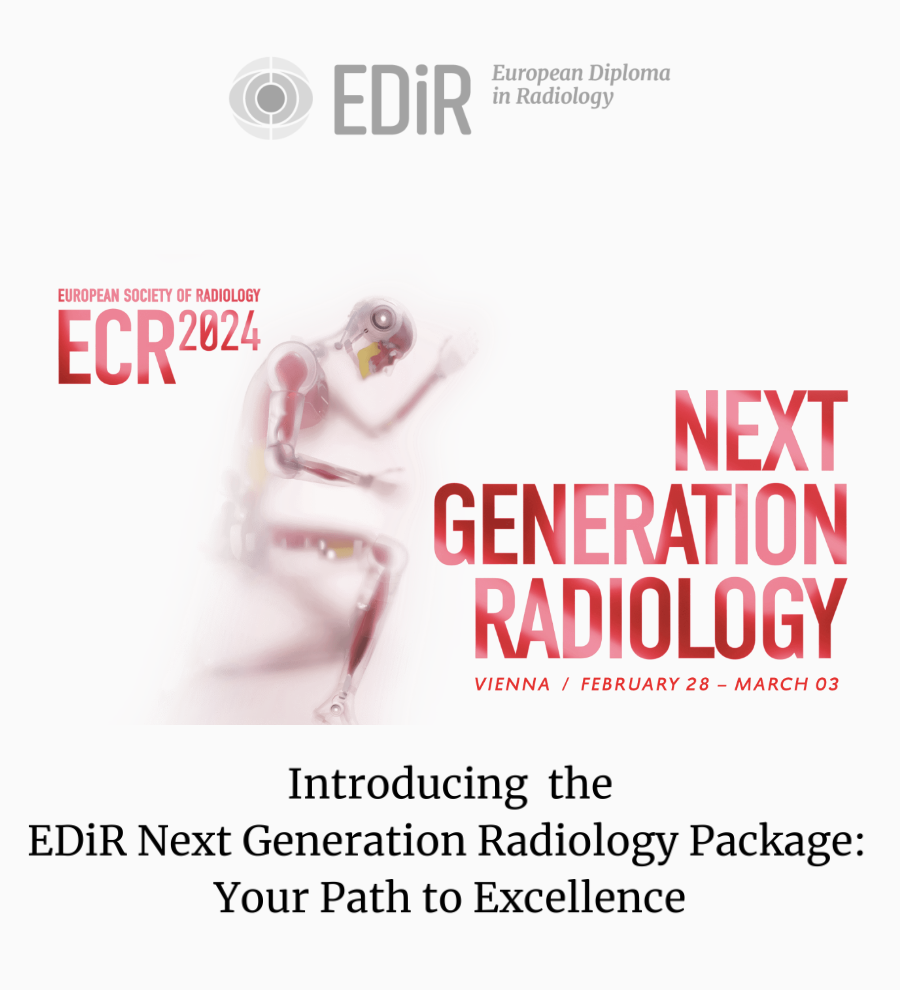 ECR 2024 will take place in Vienna from February 28 to March 3 and the theme of the congress is Next Generation Radiology. 
The European Diploma in Radiology (EDiR) is of significant value to the next generation of radiologists. 
The EDiR certification will be advantageous for their future roles, in an ever-changing environment that requires rapid adaptation without losing sight of the excellence that their profession demands.
The European Diploma in Radiology (EDiR) is a certification of excellence developed by the European Board of Radiology (EBR) and has proven to be an excellent tool for training institutions across Europe and abroad. Its knowledge base is defined in the ESR European Training Curriculum for Radiology (Level I-II). 
Nearly 4,000 radiologists worldwide have obtained the EDiR and more and more national societies are incorporating the EDiR into their radiology training programmes. In some countries, the EDiR is equivalent to their national board examination, while in others it serves as their final examination. For some, it holds great value for new generations. 
Given the interest and demand for the EDiR from young radiologists and institutions and in order to facilitate their access to the examination and the congress, the European Board of Radiology (EBR) is pleased to introduce the EDiR Next Generation Radiology Package. 
The package includes:
EDiR  at ECR 2024 (Vienna, February 27) examination fee
ECR 2024 registration 
An exclusive online preparatory session (date to be defined): 

EDiR preparatory cases & master class by Prof. Laura Oleaga, EDiR Scientific Director

Special rate for the EDiR simulation and webinar on December 14, 2023.

(120€: original price, 90€: after-discount price) 
The fee for the European Diploma in Radiology (EDiR) examination is:
€500 for full ESR members and ESR members in training.
€1,100 for corresponding ESR members.
HOW TO REGISTER
Candidates must be certified radiologists or at least be in their fifth year of national radiology training at the time of the examination. For countries where radiology training is shorter than five years, experience as a supervised staff radiologist will be considered. Your total years of training and supervised practical experience must be four or more at the time of application.
EDiR EXAMINATION AT ECR 2024 : REGISTER HERE
Vienna, February 27, 2024  
IMPORTANT NOTICE:
Upon applying for the EDiR at ECR 2024, please refrain from registering separately for the congress. The EDiR Team will directly handle your EDiR registration in due course.
Kindly note that congress fees that have been already paid will not be refunded by the European Society of Radiology (ESR).